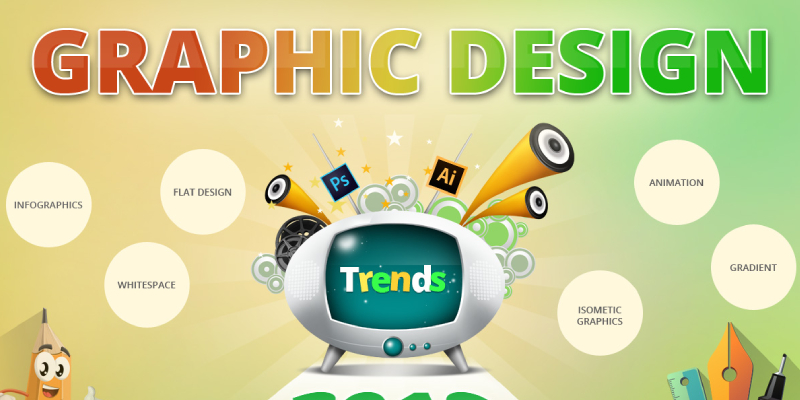 The graphics and animation industry is a developing industry that continues to grow every year. The latest trends in graphics and animation can help in innovating marketing your business. It helps in creating attractive designs that grab the attention of people. It is important that animators and graphic designers are aware of the latest trends in the design industry. Adding new features and techniques to graphical design help in making the final design eye-catchy. Te the following lists some of the top design trends in the animation and graphics industry.
Trends In Graphical Design
Layers and Shadows: The use of layers and shadow in graphical design offers a depth and touch of reality to your work. It has the power to turn out the simple graphical design to look interesting. All the elements included in the designs stand apart with the use of shadows. It is also possible to offer a 3D effect by creating illusions using shadows. Layers and shadows are the recent graphical trends that spruce up simple graphical designs. A simple style can be elevated with the right use of layers.
Combining Photos and Graphics: Integrating photos along with graphics is a recent trend used by graphical designers. It offers a sense of reality and a fresh look to the graphical design. There are several creative options that can be experimented with by blending graphical design with photos. This technique helps the graphical design to interact with the real world.
Trends In Animation
The animation is a technique that is used to offer movements to graphical designs. Top marketing websites include animated designs for grabbing the attention of visitors. It is possible to animate simple logs, icons, and large scenes. Including subtle animation can make your website attractive and engaging.
Trends In Color Schemes And Typography
Choosing bold and bright colors is a recent trend in graphical trends. Offering a cyberpunk color scheme is a futuristic wat to offer a twist to your modern design. This type of color scheme makes the design captivating and interesting for viewers. It helps in elevating the design.
Using bold typography that creates a unique statement. Strong text elements offer a focal point to the design. It is an innovative trend to incorporate text into the design.
The above are the recent trends in graphical and animation designs.