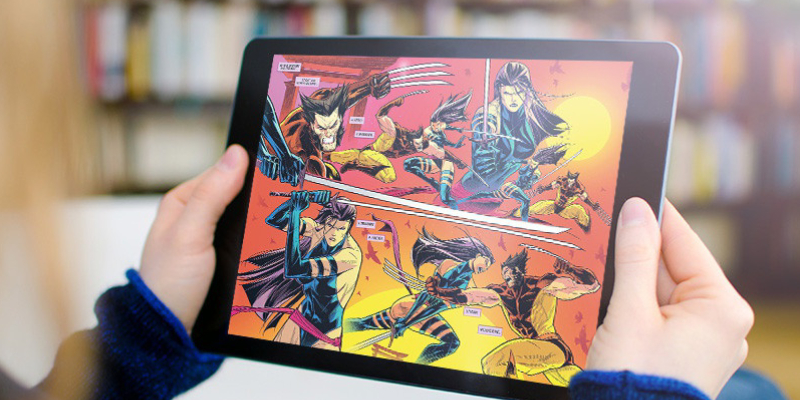 Comics are available both in digital and print formats. Whatever format it is in, reading comics is always a welcome break from too much work. You may choose to read your comics digitally and then buy in print format to have them handy to read anytime you wish to. You can also choose to read your printed comics and then get your favorite series in print, which you have missed digitally. Printing technology and digital technology have gone a long way in printing comics.
Print Comics
Advantages:
Comic paperbacks/hardcovers will look great on any bookshelf
Comics print copies are printed in paper with good quality
Comics always have impressive embossing
You can hold your print copy physically, read, and feel the smell
Comics always read better in print copies
Disadvantages:
Print copies may occupy physical space
You cannot take your copies wherever you go
Print copy costs more than a digital copy
Print copy may wear off
Digital Comics
Advantages:
You can purchase your copy any time
You can carry around your copy easily
Digital copies can be stored easily on a device/cloud
Digital copies are cheaper than print copies
Digital copies are easy to access online
You need not store but read online
Disadvantages:
You may need a device to read
You will need an internet connection
You cannot sell or trade-in
You may get locked out of account
Even reputed comic services may close down abruptly
Your Preference
With print and digital options, comics are available everywhere. If you want to relax yourself for a while, you can choose a copy of your choice. Even if you are traveling, you can read your digital copies on your mobile. When you compare printed copies to digital copies, digital copies have the benefit of technology. Your favorite comic characters may come alive virtually and let you enjoy their presence with their interactive dialogues and actions. Virtual presence of your favorite characters will stay longer with you in mind than the characters in printed copies.
The advantages and disadvantages of printed comics and digital comics may be listed and discussed in detail. But, it is always your choice to read it in print or digital. Both formats may impress you. But, finally, it is your choice to choose the format to read or whatever format that is available at that time.