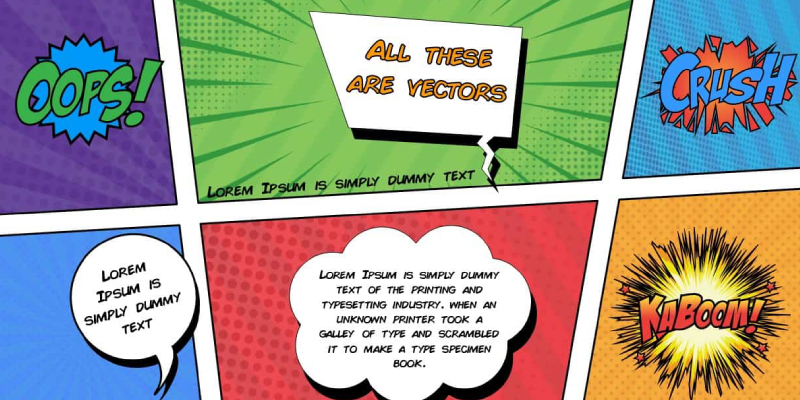 Do you want to make your presentations lively to win that prestigious project? Presentations with a tinge of creativity will attract the attention of viewers and get you the benefit of achieving your targeted goals. Comic book style guides help you to make your slides to be creative and impressive. Numerous methods are there to create your slides with PowerPoint templates and characters that are suitable for both web and mobile apps.
PowerPoint Templates For Web
Numerous Web Apps for Comic Book Toolkit PowerPoint Templates are available for immediate use. You can choose the best that will serve your needs. Simple templates are available with numerous backdrops that can be used along with images and clipart.
Pixton Comic Characters: Pixton comes with a comprehensive framework with options to add characters, speech bubbles, and create scenes according to your creative need.
Storyboardthat: Storyboardthat comes with a simple interface to create your storyboards with readymade characters and scenes. You have the option to download your content as an image or a PowerPoint file, or you can embed, present, and share your storyboards online.
PowToon: PowToon comes with a user-friendly interface for generating animations. You can create comic book style video animations, marketing videos, and video presentations. This web app comes with an option for direct upload, and you can share your videos immediately on the social media platform.
Create Your Expressions: Create Your Expressions comes with animated presentation templates for KeyNote and PowerPoint with speech bubbles, stick figures, and sample scenes. A comic book like storyboards and slides can be created with this template.
PowerPoint Templates For Android
The Cartoon Comic Strip Maker: The Cartoon Comic Strip Maker for Android comes with hundreds of comic characters. With this app, you can choose a suitable layout to create your storyboard with cartoon characters. You can choose your background and speech bubbles for your text. As an Android user, you can use this app to create comic strips that can be used as images in your slides.
PowerPoint Templates for iOS
Halftone 2 for iOS: Halftone 2 for iOS is an app available for your iPad, iPod, and iPhone to transform your photos into comic book pages. You can add text, frames, and speech bubbles to design your comic book style presentation in iOS and turn them into videos and comic book pages. This app helps to generate comic strips using your sophisticated iDevices.